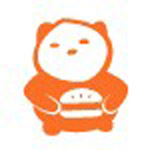 Hip Monsters first stumbled upon Hamburger Panda at the Indie Mart in San Francisco, California. After a few drinks and several disappointing stalls we were thrilled to see their designs. Trendy t-shirt designs with humorous appeal Hamburger Panda makes any Monster look cool. Who does not want to be seen with shirt sporting a robotic manatee?
One of our favorites is the Scuba Cat tee. You can imagine the thrill of the cat given an opportunity to chase after a fishes under the sea. The design is modern and campy with smart use of color.
Monster Recommended for cool T-shirts.


Web site