Please note, this material is provided for informational purposes only and is not a guide on how to create the designs. Please read our disclaimer.
What do you do if you break a pot? This fun DIY moss terrarium will teach you a great way to decorate your space with recyclable materials! It will brighten up your space and help you avoid throwing away useful pottery!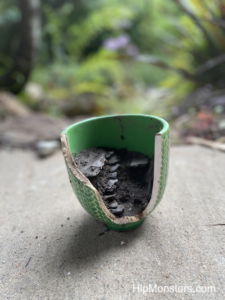 Let's make a moss terrarium! The first step is to pack in as much mud as you can without the mud falling off. You can press in flat shaped rocks for stairs and platforms, then put more mud on top of it for more support. To create stairs, find similar sized rocks and stack them on top of each other, with space in front of it.
Here is what it first looks like after you attach the platforms. We used slate as our rock, because it is very flat. We also put some rocks along the side of the pot to look like the side of a cliff.
Use a paintbrush and water to clean mud off of the rocks and the front edge of the pot so it doesn't look too dirty.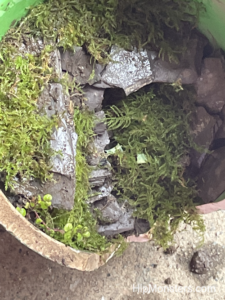 Next, before the mud dries, walk around outside to gather mosses and small plants. Gently tear the moss to the right size and press it into the mud. More is more, so put moss on every available surface to make it look more like a forest. If the soil is too dry, or not sticking, slowly add water in small amounts.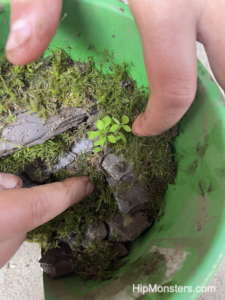 For the small plants, poke a small hole and press it in. Put more moss over the exposed soil around it and press. If it is too small, first make a ball of mud around the roots of the plant and then press it in.
Gently water all of the plants with a mister or with your finger. Do not dump too much water all at once or you will kill your small plants and/or sweep away the rocks and mud.
You can also add some small decorations on the terrarium to create a landscape or a scene. Make sure to water it regularly! But if your plants die, you can use the same method to replace them!
Happy creating!