The Hip Monsters team does not like trees going to waste so whenever we stumble upon a piece of wood too rotten or misshapen to be used for out projects we create a monster!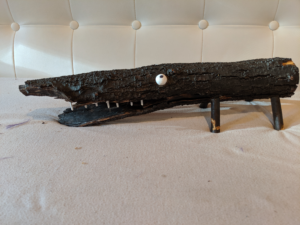 Born from a dead branch of a juniper bush this monster is built to protect a child's room. It is very possessive and will only allow one monster in the room at a time. Perfect for making sure human children have a restful nighttime sleep.
Allie was one of our first monsters and is at the front of our house very Halloween!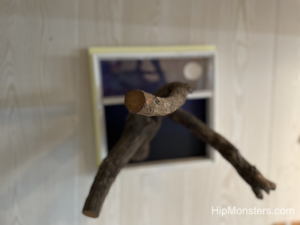 We call this one the Anteater. The Anteater creature was a wonderful branch that was too split to make a good wand or use in other projects. After we stabilized the splitting and cut out all the rotted wood, we coated her heavily in bees wax.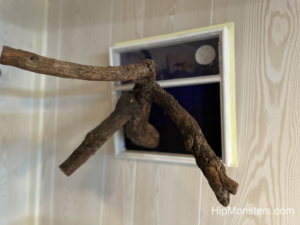 At first we thought of mounting Anteater as if she was a trophy but then the Sister's team thought of having her appear to climb out from the wall. We then used a picture frame we were working on and created a fake window for her to climb out of. With a window as a mount, she made a great addition to our living room.
The humming bird monster was a branch too weak to be used for other projects. After trimming and tons of bees wax we added felt wings.
hung from the ceiling the humming bird monster comes to life.
Born from one of our favorite bushes and a failed custom, Shui the dragon was out most complex monster at that time.
Shui has posable legs, tail and wings. The legs barely can support her so we decided to hang her from the ceiling to watch over us as we craft.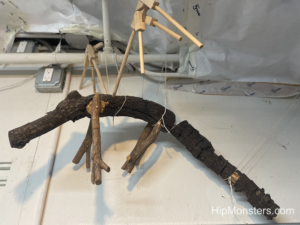 The wings are from a dragon custom we were building that proved to be too heavy. The tail is made by repeatedly cutting the log and threading a steal wire to through to secure it.
Happy Making!